"Pasakų daržas"
Valgymo sutrikimai: maisto dizaino sprendimai vaikų onkohematologijos skyriuje

Dizaino projektu "Valgymo sutrikimai: maisto dizaino sprendimai vaikų onkohematologijos skyriuje", pasitelkiant tarpdisciplinines tyrimų metodologijas ir dizaino metodus, buvo siekiama ištirti atvejus, susijusius su vaikų mitybos sutrikimais VU Santaros klinikų vaikų onkohematologijos skyriuje ir sukurti dizaino sprendimus padėsiančius gerinti vaikų valgymo patirtis gydymo kurso metu. Šis projektas buvo vykdomas bendradarbiaujant su VU Santaros klinikų vaikų onkohematologijos skyriaus mitybos specialistais.
Atlikus bendrą vaikų mitybos sutrikimų analizę ligoninėje, tolimesniu tyrimu buvo siekiama sutelkti dėmesį tik į pacientus, kurie patiria burnos gleivinės uždegimus (mukozitą) bei chemosensorinius pokyčius ir išaiškinti su maisto dizainu susijusias esamas problemas. Mukozitas yra vienas iš dažniausiai patiriamų šalutinių poveikių sukeliančių distresą chemoterapijos kurso metu. Burnos ertmės uždegimas pasireiškia skausmingomis gleivinės opomis, todėl pacientams paskiriama trinto maisto dieta. Esant ūmiam mukozito atvejui, maistas vartojamas gastrostomos pagalba (maisto sušvirkštimas per vamzdelį tiesiai į skrandį).
Trinto maisto serviravimo problemos VU Santaros klinikose:
- Trintas patiekalas, kurį sudaro atskiri elementai, yra patiekiami vienoje lėkštėje, kurioje skirtingi maisto produktai niveliuojasi. Pietų ir vakarienės davinį visuomet sudaro sriubos porcija - 250 g ir trijų elementų pagrindinis patiekalas: 1 dalis trintų daržovių - 150-200 g, 1 dalis kruopų arba bulvių - 150-200 g ir 1 dalis trintos mėsos - 100-120 g.
- Skirtingų trintų maisto produktų tekstūra suvienodėja, todėl maistą tampa sunku atpažinti (spalvos ir tekstūros konfliktas).
Chemoterapijos kurso metu beveik visi pacientai taip pat patiria chemosensorinius pakitimus, tačiau maisto poreikiai gydymo metu dažnai keičiasi, todėl jų valdymui reikalingi skirtingi įrankiai maisto patiekime. Tyrimo metu skonio pokyčiai buvo išskirti į dvi grupes: skonio nejautra ir skonio pokyčiai. Skonio nejautra - tai trumpalaikė gydymo pasekmė, nulemianti uoslės ir skonio jautrumo sumažėjimą (
Ageusia
- skonio pojūčio nebuvimas,
Anesmia
- kvapo pojūčio nebuvimas,
Hypogeusia
- skonio jautrumo sumažėjimas,
Hyposmia -
kvapo jautrumo sumažėjimas,
Dysgeusia
- normalaus skonio iškraipymas,
Dysosmia
- normalaus kvapo iškraipymas). Skonio pokyčių sutrikimas - tai maisto sukeltų neigiamų pojūčių sustiprėjimas - šleikštulys (
Hypergeusia -
šleikštulys sukeltas maisto skonio,
Hyperosmia -
šleikštulys sukeltas maisto kvapo
)
ar skonio ir kvapo jutimas be išorinio dirgiklio (
Phantageusia
ir
Phantosmia
).
Atsižvelgiant į trinto maisto patiekimo problemas, skonio nejautros ir skonio pokyčių atvejus bei dėl šių priežasčių patiriamą distresą buvo sukurti du stalo indų rinkiniai
"Pasakų daržas"
.
Stalo indų rinkinys esant skonio nejautrai ir trinto maisto dietai
Šiuo dizainu buvo siekiama trintam maistui suteikti tekstūros, kurią kompensuotų išorinė indo faktūra. Organiškos laisvos formos išorinės indo faktūros sukuria neapibrėžtus daržovių vaizdinius, kurie leidžia vaizduotei sukurti individualias reikšmes. Kiekvieno maisto elemento skonis stiprinimas juos patiekiant atskiruose atviruose skirtingų spalvų induose, kurių spalvų deriniai buvo pasirinkti atsižvelgiant į dažniausiai pasikartojančius maisto produktus valgiaraštyje (bulvės, mėsa, morkos, burokėliai, kruopos, sultinys, obuolys) bei lyties neutralumą. Rinkinį sudaro trys mažieji indai trijų dalių pagrindiniam patiekalui bei vienas indas sriubai.
Stalo indų rinkinys esant skonio pokyčiams ir trinto maisto dietai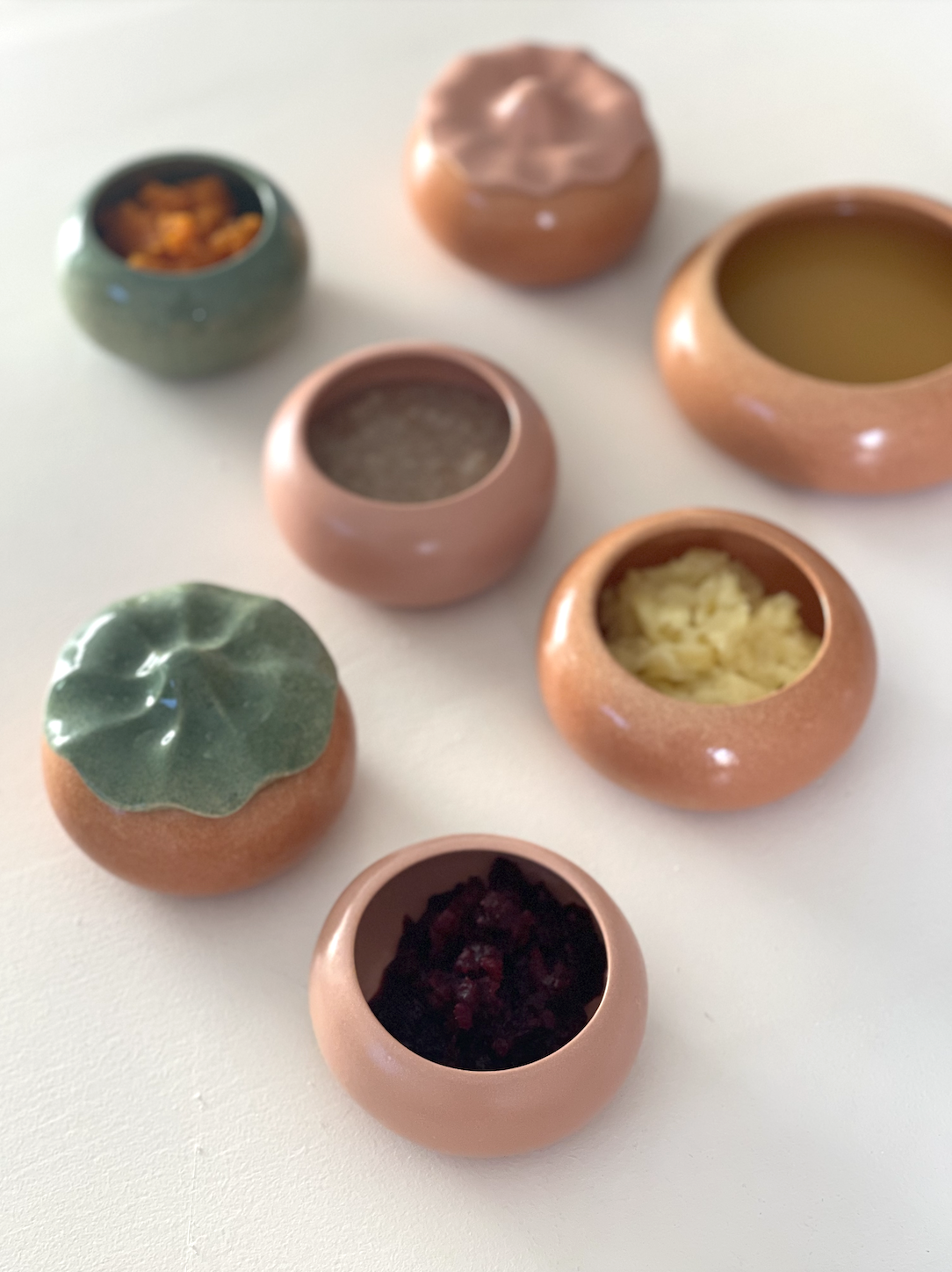 Šiuo dizainu buvo siekiama atskirti karštojo patiekalo elementus į atskirus indus, kadangi esant šleikštuliui, kurį sąlygoja chemoterapijos poveikis chemosensoriniams pojūčiams, maistą vartoti tampa maloniau, kai maistas vartojamas atskirais elementais po vieną - atskiri maisto elementai leidžia maitinti be kito maisto poveikio, kadangi skonio sąlygotas pasibjaurėjimas keičia skonį medžiagų, kurios veikia kartu su šleikštuliu. Šie indai yra aukštesnių, siaurėjančių briaunų, dengiami dangteliais, todėl toks dizainas leidžia valdyti kvapų pasklidimą erdvėje bei regimąjį maisto lauką. Spalvų paletė buvo pasirinkta atsižvelgiant į dažniausiai pasikartojančius maisto produktus valgiaraštyje (bulvės, mėsa, morkos, burokėliai, kruopos, sultinys, obuolys) bei lyties neutralumą. Indų rinkinį sudaro trys mažieji indai trijų dalių karštajam patiekalui bei vienas indas sriubai.
Siekiant mažinti vaikų patiriamą distresą, indų rinkinys yra pavadintas "Pasakų daržu". Šie indai kuria aliuziją į daržą, kuriame auga stebuklingos ir neregėtos daržovės, lyg būtų girdėtos tik iš pasakų. Spalvingi dangteliai gali būti mainomi tarp indų - tai sudaro galimybę vaikams įsitraukti į žaidimą valgymo metu.

Projektą finansavo Lietuvos kultūros taryba
2023

---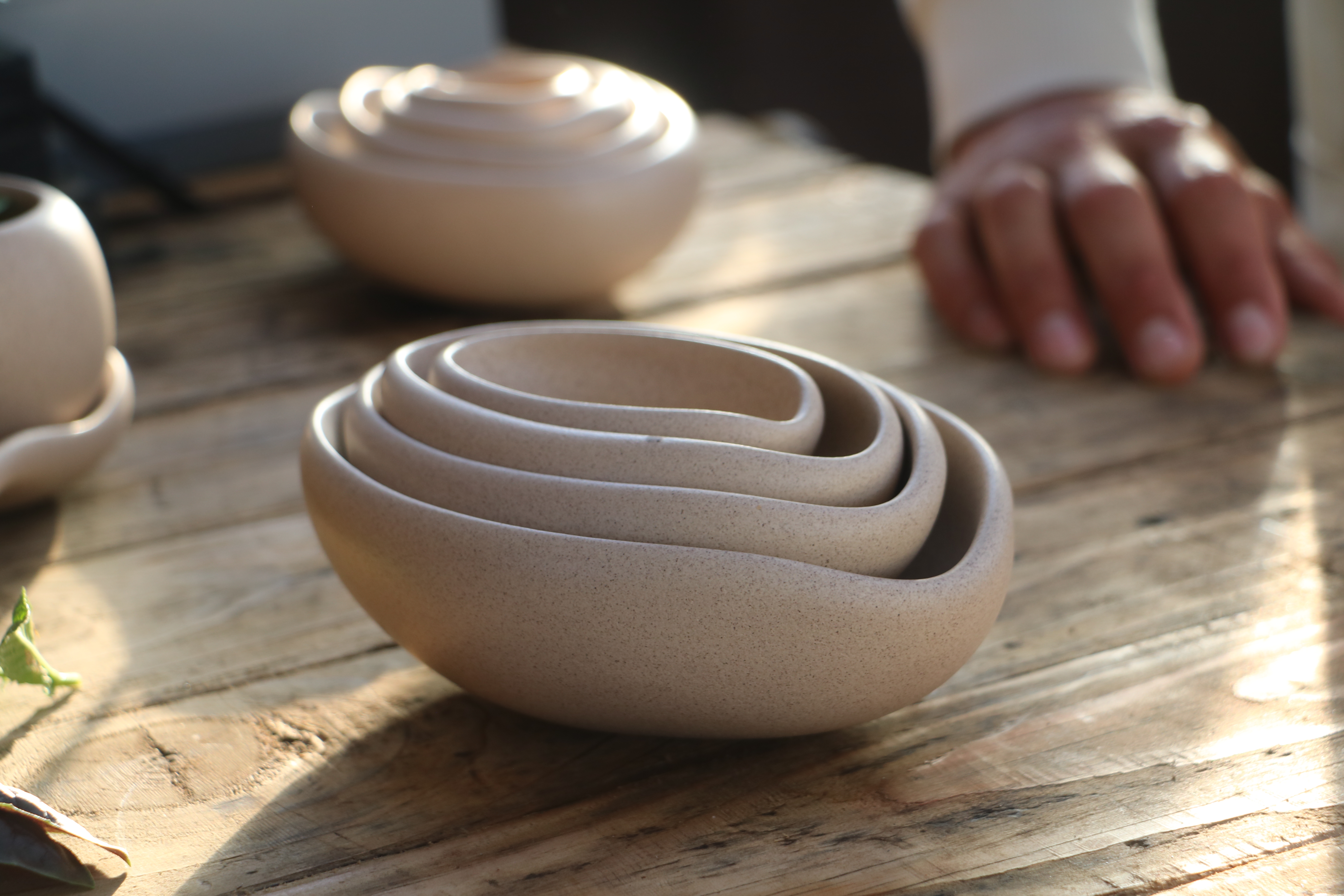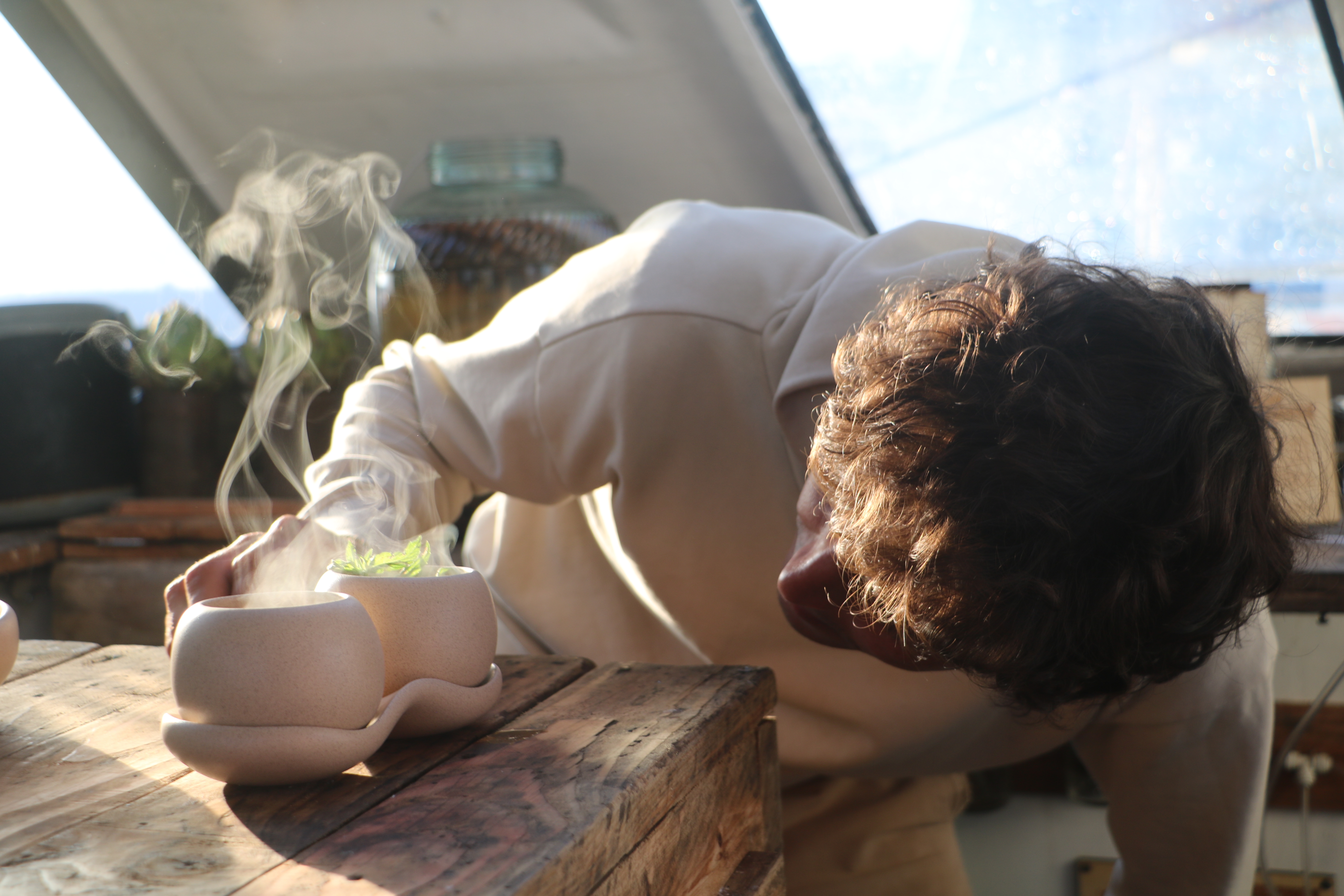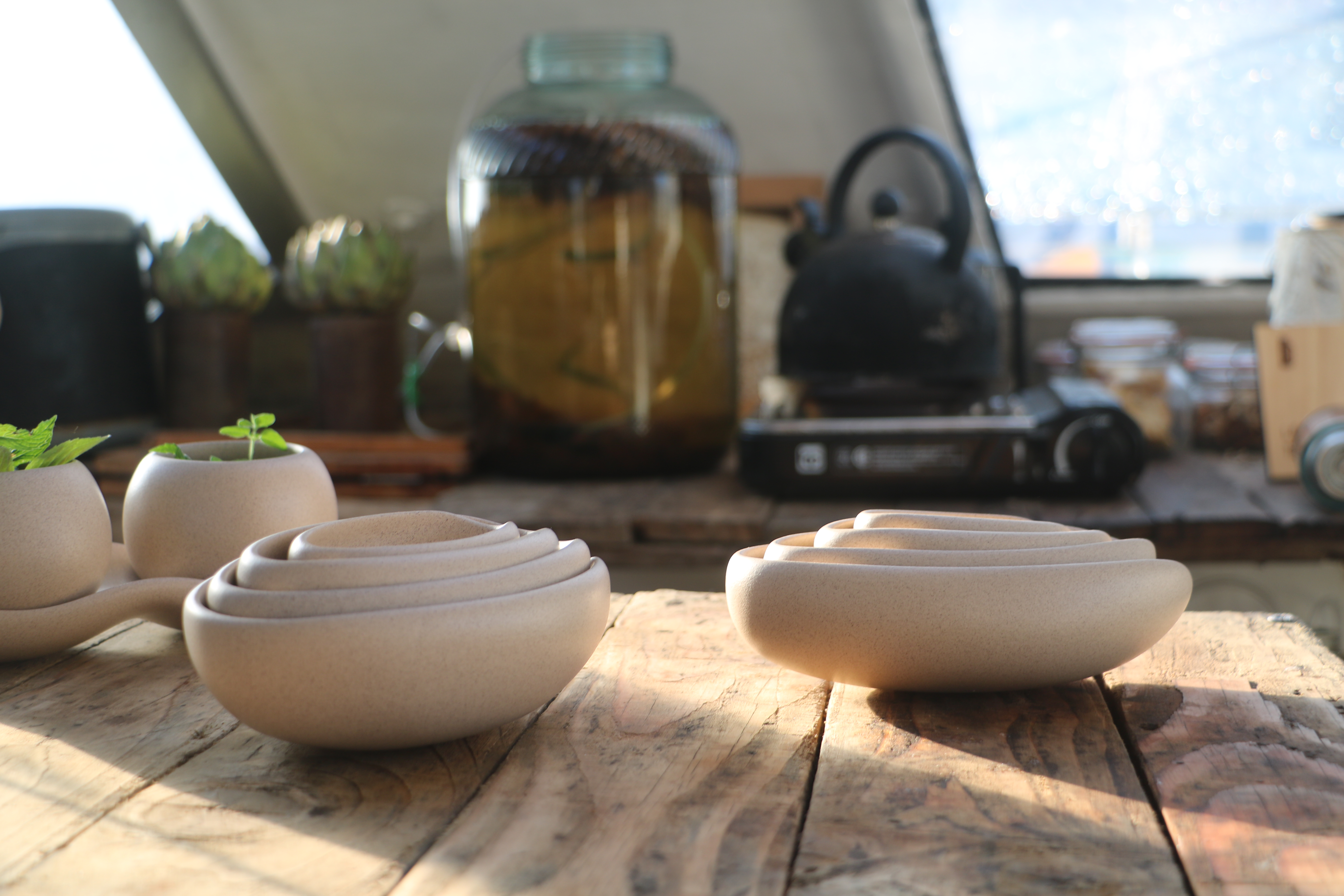 "The Biosphere"
Tableware for Low-Tech Lab Experiment The Biosphere in Mexico, Baja California, 2022

A collection of tableware, developed in collaboration with the Low-Tech Lab Association, which will be used in their latest experiment The Biosphere in Baja California, Mexico, during the autumn and winter season 2022. The Biosphere is a temporary 60m2 settlement structure where Corentin and Caroline from Low-Tech Lab will live by means of around 30 different low-tech skills and technologies. Designed as an ecosystem in which waste materials become resources, it produces from just 60m2 enough proteins, vitamins and minerals to sustain 2 people at a cost of less than 1 euro a day. This tableware project for "The Biosphere" aims to lead to a futuristic and desirable lifestyle concept, based on the conviction that humans can live on the planet in a healthy and sustainable way in harmony with their environment. To celebrate the core values of Low-Tech Lab, the concept for these vessels is inspired by the shape of a human hand. It serves as a symbol for preserving and cooperating with nature. This tableware is designed for eating both with and from hands. Together with Low-Tech Lab, we believe that this is the future of eating. The vessels were made according to the size of the hands of the two people participating in the experiment – Caroline and Corentin. The four different sizes of the dishes fulfil the requirement to serve different consistencies of food, and their stacking ability solves the need to save space during transport on a sailing-boat. In this experiment, these vessels will be used to serve locally grown plant products, grasshoppers and other foods.
---
"Table: What, How, and Why"
Shaping the sensory perception of food at the table for sustainable food system vision


Tableware serves as a connection between the food and the eater, which has an impact on sensory perception of food and eating behaviour. Expression reflected in the shape of tableware items both contributes to the sensory perception of food and creates space for learning – it coordinates eating behaviour in order to enhance mindful eating and focus on food choices and quantity. This experience during the eating process concerns not only the pleasures of eating, but also looking for broader implications of eating, which is a part of a sustainable food system vision that starts with the table and the choice of 'what, how, and why' we are eating.

The series of design objects aimed to create the sensory perception of food consists of seven different types of tableware accessories – serving dishes for water, berries, vegetables, eggs, seafood, meat and desserts.




Water
The concept of these dishes conveys the organic human movements of scooping water by hand from a natural water source. This dish set includes a bowl with a bottom relief that imitates water ripples and personal mugs that reproduce the shape of cupped human palms and recreate the sense of drinking from the palms.
Berries
Berry picking involves the picking and tasting of berries with fingers. The sense of touch is essential to this process. When the berries reach the table having already been picked, it is, unfortunately, lost. With the aim to recall this experience, this berry bowl was given sprouts that suggest fingers and the picking process. In addition, these shape fragments prevent the berries from collapsing due to the reduced risk of their friction.
Vegetables
Life in the city provides for fewer opportunities to enjoy vegetables straight from their bed. To recreate this experience, this dish intimates the soil for crops. Its relief accommodates the vegetables according to their shape, thus creating an experience of removing the vegetables from the ground.
Eggs

Chicken eggs reach the table in cardboard boxes and it is likely that we forget the experience of collecting eggs. This egg dish evokes the sense of eating straight from the nest – a soft, warm, and naturally formed chicken den. The egg is bedded in this bowl that also has a place for the shells.



Seafood

The seafood dish plays with water motifs – the current and the wave. The latter functions to hide the food scraps, whereby the fish bones and other waste are tucked away under the wave.



Meat

The contemporary eating culture continues to exhibit an excessive consumption of meat. In order to emphasise the importance of meat moderation, this dish encourages the eater to indulge in a small piece of meat as though it were a dessert. The experience of eating is enhanced by the texture of the dish that alludes to meat fibres, thus unearthing the metaphor of life by letting the meat juices flow between the folds of the dish.



Dessert
This dish employs the sense of touch to try and evoke the sensation of a sweetie melting in between the fingers. This experience also suggests a further feeling of intertwining one's fingers
with those of someone else.
Awards:
GERAS DIZAINAS 2021 1st place
YOUNG DESIGNER PRIZE 2021
"Where Lies the Line Between Hunger and Satiety"
Shaping human willpower in eating process to prevent overeating
The project "Where lies the line between hunger and satiety?" appeals to the line between hunger and satiety, trying to find the solutions of tableware shapes enabling to control and strengthen human willpower in eating process, preventing overeating when people feel starving. Slow Bites, Blossom, Peanut, and Goose – the tableware of conceptual design were created aiming to transform the perception of food amount and eating duration.
The project is funded by the Lithuanian Council for Culture.
Slow Bites
Satiety is a pleasant feeling, however, having just slightly overeat, felicity may turn into suffering. The feeling of pleasant fullness is determined by the ratio between food amount and eating duration. When food is served on a single open plate, there is a possibility to consume it in a rush, making eating experience instantaneous and spooky. Slow Bites are designed so that a serving is scattered by bites and hel to create an individual experience in the cognition of flavours. These dishes are designed to enjoy food by eating with fingers, same as you eat fruits or berries while walking in a garden.
Blossom
The habit of rushing through life is somewhat related to our plates. In the context of abundant routine concerns, eating sometimes becomes just an instantaneous physiological function, necessary to minimize discomfort caused by hunger. Blossom is a subtle allusion to a three-course dinner. The food served in a single dish set is divided into three different layers and periods of time, thus discouraging eating in one go and contributing to a full feeling that unrolls slowly, making pauses between courses.
Peanut
Snacks are intended for fast and comfortable eating, therefore, there is always the risk of having too much, especially, when we do not have time for regular meals. This dish is intended to control the habit of excessive snacking, grabbing the food with full hands and stuffing in mouth without paying attention into the contents. The dish has a narrow opening; therefore, it takes more time to reach food with fingers. This is aimed to train attention during meal. To make an optical illusion of bigger serving of snacks and facilitate tracking of the consumed amounts of food, the dish bend divides food into separate zones.
Goose
The line between hunger and fullness is controlled by the plates that create the illusion of satiety. The shape of Goose dishes alludes to
foie gras
thus creating the feeling of early satiety. To ensure serving well-balanced amounts of food, the plates are designed of such shape that having placed a bigger portion, any excessive amount of food would slide off the plate like water slides off a goose's back.
Publications:
FINE DINING LOVERS BY S.PELLEGRINO AND ACQUA PANNA
---